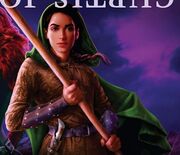 Whitley is a character in the Wereworld series. She is a Werebear, the daughter of Duke Bergan and Lady Rainer and the younger sister of Lord Broghan. Naive and unused to the wider world, the hapless Whitley has a lot if growing up to do. The apprentice scout hails from the woodland city of Brakenholme. Whitley's influential father is worried by the young Greencloak's choice of profession, therefore he is ensuring the apprentice studies under the watchful eyes of Master Hogan Chett, chief scout to Duke Bergan, the Bearlord. She is a less clear success in most eyes. 




Age

17
Weretype
Bear
Status 
Alive (books 1-5)/Deceased (book 6)
Fate
At Drew's side in Bast preparing for the coming war with the enemy (book 5). Dies from a fatal blow by the silver blessed wolfshead blade (book 6).
Eye Color
Brown
Hair Color
Dark Brown
Family

Duke Bergan (Father)

Baron Redfern (Uncle)

Lady Rainer (Mother)

Lord Broghan (Brother/Deceased)

Lady Gretchen (Cousin)

Lady Greta (Cousin by Marriage)

Duchess Freya (Great Aunt by Marriage/Deceased)

Duke Ragnor (Great Uncle/Deceased)

Duke Henrik (Cousin/Deceased)
she dies and drew hates her. drew spits on her dead body as he marries Gretchen.