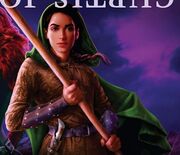 Whitley is a character in the Wereworld series. She is a Werebear, the daughter of Duke Bergan and Lady Rainer and the younger sister of Lord Broghan. Naive and unused to the wider world, the hapless Whitley has a lot if growing up to do. The apprentice scout hails from the woodland city of Brakenholme. Whitley's influential father is worried by the young Greencloak's choice of profession, therefore he is ensuring the apprentice studies under the watchful eyes of Master Hogan Chett, chief scout to Duke Bergan, the Bearlord. She is a less clear success in most eyes. 
Ad blocker interference detected!
Wikia is a free-to-use site that makes money from advertising. We have a modified experience for viewers using ad blockers

Wikia is not accessible if you've made further modifications. Remove the custom ad blocker rule(s) and the page will load as expected.